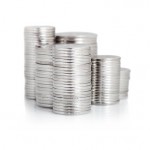 For the past few weeks, silver prices have been trading sideways. Kitco notes this tight trading range "could be "basing' action that can put in market lows and occurs just before an uptrend begins."
For those investing in silver, that's great news.
And if you don't think silver prices will go higher this year, here are three charts showing otherwise.