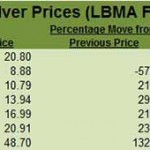 I've written before about how gold can help protect you from the coming Super Crash, but I haven't written so much about silver.
The main reason for that is that silver really is "poor man's gold." The major difference is that gold is a currency while silver remains a metal.
Silver prices are also more volatile, more dependent on the state of the industrial economy (which isn't very good), and very beaten down right now.