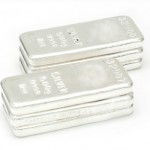 Our silver price news today looks ahead at another volatile week for the white metal as global precious metal sentiment remains guarded.
In early-morning trading Monday, spot silver was trading down 1.5% at $21.88.
Silver traders are closely watching the Wednesday outcome of the Federal Open Market Committee's (FOMC) two-day meeting to see if the U.S. Federal Reserve finally follows through on plans to start weaning the U.S. economy off five years of quantitative easing (QE).