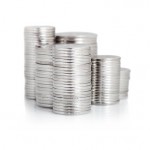 Spot silver prices rose $0.07, or 0.4%, to $19.86 an ounce midday Monday as precious metal traders and investors gear up for a busy week ahead.
Market participants remain guarded, with a spate of U.S. economic data flooding in as the week wears on. Capping the busy week will be Friday's closely watched March jobs report.
Meanwhile, Monday caps the end of 2014's first quarter.