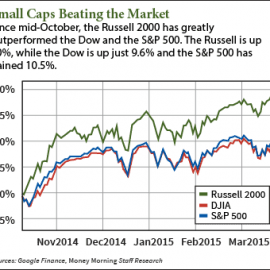 Small-cap stocks are soaring above the broader market right now, and you can capture those gains now with a small-cap ETF (exchange-traded fund).
Over the last five months, the Russell 2000 has gained 20%. In the same time, the Dow has gained just 9.6%. The S&P 500 is up 10.5% in that time.
And the hot streak isn't over for small-cap stocks, according to Money Morning's Small-Cap Investing Specialist Sid Riggs.