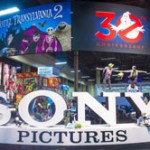 On Sunday, CBS's "60 Minutes" examined the Sony hack from November 2014. The segment detailed just how ill-prepared most Americans and corporations are for cyberattacks.
The interviews also underscored one of our favorite ETF trading trends of 2014: cybersecurity ETFs.
"The money spent on cyber defense represents one of the highest profit potentials of anything I've encountered," Money Morning's Small-Cap Investing Specialist Sid Riggs said. "And the growth numbers spotlight not just one company but an entire sector that will have the wind at its back for the rest of our investing lifetimes."