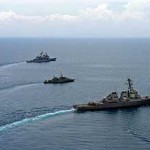 A storm that's been brewing in the South China Sea for 200 years now threatens to disrupt the world financial markets.
"The plot in the South China Sea just keeps getting thicker," Money Morning Executive Editor Bill Patalon told readers on Dec. 8. "And riskier - on both sides of the dispute that keeps escalating there."
Seven nations lay claim over the region's resource-rich islands and maritime boundaries: China, Vietnam, Malaysia, the Philippines, Taiwan, Japan, and the tiny sultanate of Brunei.
Exactly what is the South China Sea dispute?