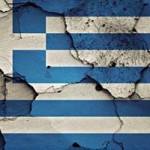 As Greece approaches its next payment deadline, the rhetoric and the stakes are boiling over.
The IMF recently quit negotiations in Brussels, saying it had reached a stalemate.
Then Greek Prime Minister Tsipras said the IMF had "criminal responsibility" for his country's debt crisis.
With a looming deadline, now Russia has stepped to the fore, with overtures of financial aid.
It might be too late - but with a "Grexit" appearing closer than ever, the markets remain calm.