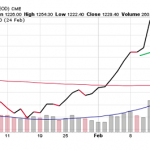 As the U.S. markets have moved sideways in the past week, gold has been in consolidation mode. Today the gold spot price is around $1,223.20 - down $9.50.
Gold traders have done some profit-taking as the gold price has bounced in a range between roughly $1,205 and $1,235 over the past trading week. But the gold spot price has stayed above the $1,200 level, which has helped to paint an increasingly bullish picture.
Technically, we're getting an emerging pennant pattern that will have to resolve itself before long. Will that be to the upside or downside?