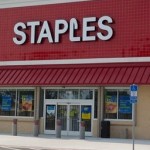 The news that Staples Inc. (Nasdaq: SPLS) plans to close 225 stores illustrates a grim trend in retail that will accelerate over the next couple of years.
The store closings are expected to save Staples $500 million by the end of 2015 and represent 12% of the office supply chain's 1,846 North American stores.
"Our customers are using less office supplies, they're shopping less often in our stores and more online, and their focus on value has made the marketplace even more competitive," Staples Chief Executive Officer Ronald Sargent said.
The announcement on store closings came amid a disappointing Q4 earnings report. The company's earnings per share of $0.33 were well below expectations of $0.39. Revenue slipped 11% to $5.87 billion, which also missed expectations.