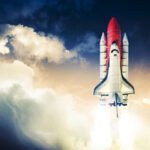 IPO investing has a new friend in space exploration.
This is going to be a huge market in the future.
With the establishment of the U.S. Space Force in 2019, a growing interest in civilian space travel, and even talk of colonizing other planets.
Momentus could be one of the shining stars of this industry.
The company was in the news this summer for its partnership with SpaceX.
Elon Musk's SpaceX is possibly the most notorious space exploration company around, known for its ridesharing services.
Companies along for the ride could have real potential at first-mover advantage in the budding market.
But is Momentus one of these?