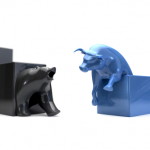 Recent data has silenced some of the loudest U.S. economy bears.
According to a new Bloomberg survey of 69 economists, gross domestic product likely grew at a 3% annualized clip in Q1. That compares with the 2% pace forecast in March and 1.6% in December.
Morgan Stanley (NYSE: MS) Chief U.S. Economist Vincent Reinhart went from an estimate of 0.8% in December to 3%. Brain Kasman of JPMorgan & Chase & Co. (NYSE: JPM) upped his projection from 1% to 3.3%.
"We are surprised that there wasn't a bigger and more immediate hit to spending" by consumers, Reinhart told Bloomberg. "There is an underlying momentum in spending, which means that sequestration and the tax increase will only lead to a monetary pause."
Kasman shared that sentiment when he said on an April 5 conference call, "What happened at the beginning of the year was a genuine surprise in terms of how well the economy held up."
Expansion is expected to slow to 1.5% in the current quarter before picking up to an average 2.4% over the second half of 2013.
Here are five reasons these economists have raised their growth targets.