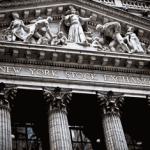 On July 8, the New York Stock Exchange (NYSE) shut down for nearly four hours, without warning. A "technical issue" temporarily halted trading from 11:32 a.m. to 3:10 p.m. ET.
But the unexpected closing that rattled investors was actually just one in more than 400 "special closings" in the exchange's 223-year history.
Exactly what can close the NYSE?