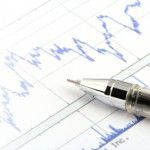 After a seven-day rally that produced consecutive record highs for the Dow Jones Industrial Average, the stock market today (Tuesday) took a breather.
In early afternoon trading, the Dow Jones Industrial Average was down 16.66 or .12% at 14,430.63. The Standard & Poor's 500 Index was off 4.94, or .32% at 1,551.37. The Nasdaq was lower by 16.30, or .50% at 3,236.
"We've just been going up and up and up every day, and now a slight pullback. There is nothing surprising here, by any stretch of the imagination-it's natural to get a little pullback like this," Sean Kelly, managing director at Knight Capital told The Wall Street Journal.
Market participants continue to closely watch the S&P 500 Index. The broad-based market benchmark is close to its all-time closing high of 1,565.15 hit on Oct. 9, 2007.
But investors may be getting a bit concerned about the recent bull run. After falling to a six-year low on Monday, the VIX (the market's fear index), rose 7.8% Tuesday.
Also, the current bull market is aging. It turned 4 on Saturday. Only five of the past 11 bull markets have made it to their fifth birthday, according to data from S&P Capital. The average bull market since 1932 has endured for roughly four-and-a-half years.
Not helping stocks Tuesday was a read from the National Federation of Independent Business. While the report showed its small business optimism index rose in February, exceeding expectations, the federation's reading on expected business conditions remained in deep recession territory. Moreover, business owners reporting declining sales far surpassed those reporting increased sales.