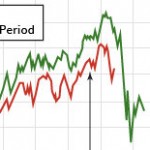 For months, Wall Street insiders have passed this chart around amongst themselves and nervously discussed whether it foretells a major stock market sell-off.
The chart compares the path of the current Dow Jones Industrial Average over the past year and a half to the Dow's moves over the 1928-1929 period.
While the Dow is trading at a much higher level now than in the 1928-1929 period, the pattern is eerily similar to the path that led to the worst stock market crash in Wall Street history, right up to the recent stock market sell-off and recovery.