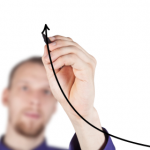 The Dow Jones Industrial Average was at a record high after nearly six years, as the stock market today (Tuesday) rallied enough to push the index up nearly 70 points at the open.
Just minutes after the opening bell, the Dow sailed passed its all-time high of 14,165 hit on Oct. 9, 2007. Less than a half-hour into the trading session the Dow roared higher by triple digits propelling benchmark to yet another record.
By 1 p.m. the Dow was up 146.99, or 1.04%, at 14,274.81. The Standard & Poor's 500 Index added 17.32 or 1.14%, to 1,542.52, leaving it in striking distance if its record close of 1,565 hit in 2007. The Nasdaq climbed 43.39 or 1.37% to 3,225.42.
Money has poured into stocks over the last several months as individuals have begun to feel more comfortable about the health of the economy - but can it last?
"The question is, can the Dow maintain these levels? The market is interested in risk-that's why the Dow is higher, why the riskier currencies are higher," Matthew Lifson, currency trader at Cambridge Mercantile Group in Princeton told Reuters.