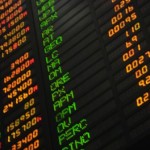 Stock market news today, April 8, 2014: U.S. markets slumped for a third consecutive trading session on Monday following a sharp selloff in social media, Internet, and biotech stocks.
All three major indices slipped by more than 1%.
The Dow Jones Industrial Average fell 166 points yesterday to finish at 16,245. The Nasdaq dropped 47 points to finish at 4,079, while the S&P 500 lost 20 points to end the day at 1,845.