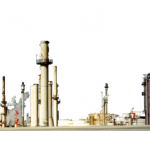 Shale oil production continues its upward path, increasing overall U.S. oil production and making specific groups of energy stocks among the best to buy right now.
In fact, the U.S. Energy Information Agency (EIA) reported last month that domestic oil production surpassed the 7 million barrel a day level, the highest point in nearly 20 years. Production this year, the EIA says, will rise by another 14%.
This is obviously good news for the companies producing that oil, and it gets even better. Many industries outside the energy sector, including chemicals and railroads, have benefited from the shale boom.
But there is one subsector in the energy industry that has reaped the rewards of plentiful oil from the Bakken and other areas more than any other, and that's the refining industry.