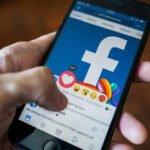 Facebook Inc. (NASDAQ: FB) is down more than 23% year to date.
And the reason for this dip is more than just a global pandemic.
On March 31 (Tuesday), it was reported that Zoom Video Communications, Inc. (NASDAQ: ZM) was illegally providing user data to Facebook.
That's even for users without Facebook accounts.
Zoom is now facing a lawsuit, while Facebook could take even more of a hit in the coming weeks.
This raises a question that's been asked countless times over the last three years: should I buy Facebook stock?