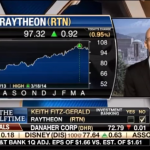 The Dow Jones Industrial Average is down almost 2% in April, the Nasdaq is down more than 4%, and the S&P 500 has dropped more than 2%. But that shouldn't scare off investors however - there are still stocks to buy even when the markets are down.
Money Morning's Chief Investment Strategist Keith Fitz-Gerald appeared on FOX Business' "Varney & Co." today (Monday) and discussed why he's buying Raytheon Co. (NYSE: RTN) and Amazon.com Inc. (Nasdaq: AMZN) stock now.
Take a look at the value in these two stocks to buy...