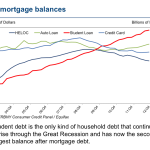 The explosion of the student loan bubble could lead to the next financial crisis in the United States, says a new federal report -which highlights the growing problem in these alarming new charts.
As of 2012, about $1 trillion was tied up in student loans - more than the total amount of credit card debt in the nation, the report by the Federal Reserve Bank of New York said.
The majority of the student loans are backed by the federal government, which means the public bears most of the risk associated with student loans.
And those loans are looking riskier by the day.