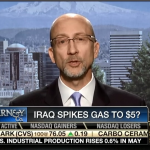 Yesterday (Monday), Money Morning Chief Investment Strategist Keith Fitz-Gerald appeared on FOX Business' "Varney & Co."to talk about Iraqi terrorism's effect on gas prices.
"I think the world is underestimating the impact here," Fitz-Gerald said of the ISIS' looming effect on gas prices.
Watch the video to see what location Fitz-Gerald is the most worried about.