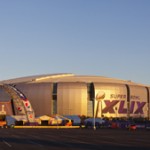 Superstitious investors will be rooting for the Seattle Seahawks to defeat the New England Patriots in Super Bowl XLIX on Sunday, Feb.1.
That's because the "Super Bowl Indicator" tells us a Seahawks victory will propel the markets higher in 2015.
This might sound absurd, but the Super Bowl Indicator is strangely accurate... In fact, it's been right more than 80% of the time.