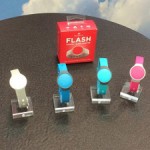 Wearable tech, medical tech, and cybersecurity are three of the most promising tech sectors we like investing in today. And all of those fields were the stars of the South by Southwest (SXSW) Interactive 2015 festival in Austin, Texas, this week.
Tech innovations are on full display at the festival's exhibition halls, where nearly 600 exhibit spaces are rented. In just four days, more than 65,000 people file through dozens of aisle ways to see demonstrations and product unveilings from robotics, virtual reality, gaming, and more.
SXSW sounds like it's mostly for tech junkies, but it's a treasure trove of profit opportunities for investors. It points to where the money will flow.