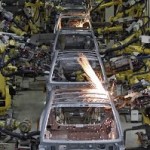 Based on car sales in the first half of 2015, we're on pace to beat the 17.4 million vehicles sold back in 2000.
But there's a troubling flip side to that retail boost to the economy...
You see, relatively low borrowing costs and a sympathetic bond market have helped push total U.S. auto debt to $1.01 trillion - the highest level ever.
That hasn't stopped American auto production from screaming upwards, though.