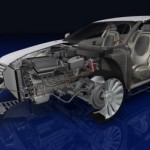 Auto sales are rocketing.
In November, the industry sold $1 billion worth of new vehicles a day, setting a record for that month.
And this flood tide of new vehicles will have more cutting-edge technology than ever before, creating a perfect profit storm of two exploding industries.
This is the most exciting time I've ever seen in the industry since I began tracking it 34 years ago.
And here's the thing: Google and Apple are excited, too. They'll make plenty of money on this trend, as you're about to see. But the "pure play" here is a much better investment...