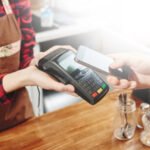 Ever hear that joke about a Starbucks on every corner? It starts to make sense when you realize that there over 15,000 locations across the United States.
But that pales in comparison to the over 80,000 full-service bank branches.
Add in ATM machines and now you are at almost half a million locations where you can get cash.
The funny part about that, is even though there are so many locations to get cash, I can't remember the last time I walked into a bank and I can imagine you are thinking the same thing.
That's more than a simple shift in consumer preferences.
It's a massive trend in fintech that could push the best financial stocks even higher...