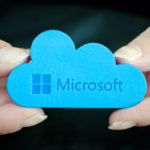 Last week, I noted that one of the 10 tools for coping with the new bear market is to put together a watchlist of great tech stocks you'd like to buy.
The idea here is to get set up for when the market turns our way again.
At this point, I have no doubt that the market will rebound as it always has in the past.
But by definition, this choppy, news-driven market greatly increases the risk of getting in too early.
To avoid doing just that, I recommend looking for tech leaders that you would like to own for the long haul.
That means giving each one a thorough checkup to make sure that prior to the correction, they had a great track record of earnings gains.