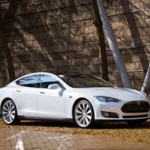 Elon Musk is viewed as one of the boldest and most innovative CEOs in the world. That's part of the reason why Tesla Motors Inc. (Nasdaq: TSLA) stock has seen a meteoric rise of 515% since the start of 2013.
And Musk made a bold move today when he opened up all of Tesla's electric vehicle patents.
Musk is giving his competitors a leg up in hopes of jumpstarting the electric vehicle market.