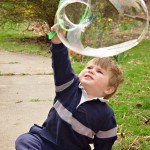 Between the stock market, bitcoin, and tech IPOs, today everyone seems in a race to spot the next biggest asset bubbles readying to pop.
The term "asset bubble" indicates that there is a marked, noticeable divergence between the market price of an asset and its fundamental value. In other words, something that people store value in - a coin, a house, a share of stock - is valued much, much higher than the thing itself could possibly be worth.
Bubbles usually end with crashes: double- or triple-digit percentage losses in the price of the inflated asset over a very short time.