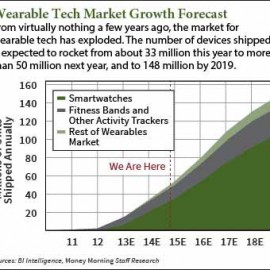 Apple Inc. (Nasdaq: AAPL) CEO Tim Cook played diagnostician Feb. 10 at the 2015 Goldman Sachs Technology and Internet Conference in San Francisco.
He voiced doctors' concerns that the average person lives too sedentary a lifestyle nowadays. That's why he is so amped about the soon-to-be-released Apple Watch (set for debut sometime early this year). "I use Apple Watch constantly in the gym to track my exercise. If I sit for too long, it will actually tap me on the wrist to remind me to get up and remove, because a lot of doctors think sitting is the new cancer."
The Apple Watch proves Cook has picked up on one of the most profitable trends in 2015: wearable tech.