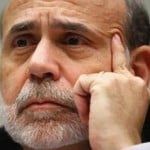 Fed-watchers are pretty sure they know what the word on a Fed taper will be when the official announcement comes following the Federal Open Market Committee (FOMC) meeting today and tomorrow (Wednesday)...
Wait a while longer.
While the U.S. Federal Reserve has hinted several times in the past six months that it is considering cutting back on its monthly purchase of $85 billion in bonds and mortgage-backed securities (known as quantitative easing, or QE), most expect no Fed taper in the immediate future.