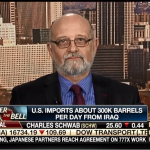 Oil prices today are approaching $107 a barrel as offenses by Islamic militants in Iraq are causing concerns that Iraq's oil supplies and exports could be slowed of entirely cut off.
The crisis has consumers worrying how high the price of oil will go and how U.S. policies will be impacted.
Money Morning's Global Energy Strategist Dr. Kent Moors appeared on FOX Business' "Countdown to the Closing Bell" yesterday (Thursday) and discussed the potential collapse of Iraq and how that could impact the price of oil and U.S. consumers.
See his take here: