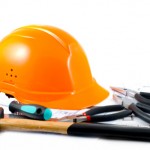 An accelerating rebound in new home construction over the next two years should finally give the U.S. economy the jump-start it needs to progress toward a truly robust recovery.
New home construction continues to bounce back from the lows of 2009, after the housing bubble burst, but still has a long way to go.
With housing one of the prime drivers of the U.S. economy - historically construction accounts for 5% of the U.S. gross domestic product (GDP) and related economic activity another 13% - a spike of activity in this area could drive the growth that's long been lacking from the recovery.
"A revival in new home construction will have a huge stimulative effect on the larger economy," Brad Hunter, chief economist for housing research firm Metrostudy, told Bloomberg News. "When home construction goes up, so does demand for furniture, tile, lumber, concrete, draperies, paint and appliances of all sorts."