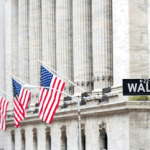 There's a reason America is floundering economically. There's a reason for the ever-widening divide between the "haves" and the "have-nots" in the United States.
Our country is no longer a free market, capitalist republic.
America has devolved into a socialist plutocracy as a result of the "financialization" of the economy.
Wealthy financial alchemists with the backing of paid-for White House administrations and Congressional lap-dogs engineer and manage the U.S. economy.
They also manage the public's access to money and credit for their speculative benefit when they win, and to taxpayers' detriment when they lose.
There's only one way out of this downward spiral...