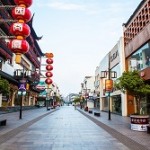 China finally hit the fan last week, resulting in the worst opening week of trading in history. The Dow Jones Industrial Average dumped 1,079 points (6.2%) to close at 16,346.45. The S&P 500 collapsed by 122 points (6%) to end the week down at 1922.03, and the Nasdaq Composite Index plummeted by 363.78 points (7.3%) to 4643.63.
The MSCI World Index lost 6% as markets around the world joined in the disaster - led by China, where stocks fell so quickly that regulators shut them down on Thursday after a mere 29 minutes of trading. Then they realized that doing so only made matters worse.
While the major U.S. market averages are flirting with a 10% correction, the reality is that most of the market is already trading in bear market territory. The average S&P 500 stock is down 22.6% according to Bespoke Investment Group.