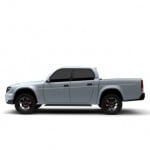 Rapidly increasing sales of Ford Motor Co. (NYSE: F) pickup trucks signal an improving outlook for the U.S. economy, particularly the agriculture and construction industries.
The pickup sales growth is one of those unconventional economic indicators that can give investors a deeper insight into what's really happening in the U.S. economy.
That's because most pickup trucks are purchased by people working in the construction trades or agriculture.
So better pickup sales are a good indication of long-term confidence in construction activity by those working in the construction trades and, for farmers, a belief that crop prices will remain higher for another few years.
Along with Ford, GM and Chrysler also have reported growing pickup sales.
Sales of Ford's F-Series pickups in December 2012 totaled 68,787, the best December since 2006 and the 17th consecutive year-on-year increase in monthly F-Series pickup sales. (The Ford F-150 has been the best-selling pickup in North America since 1976 and the best-selling vehicle in North America since 1981.)