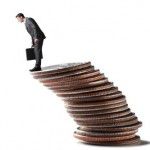 As U.S. debt as a percentage of GDP hovers at levels not seen since World War II, concerns are growing that the American economy is susceptible to a debt crisis in the near future.
Here's why people are worried: If interest rates return to normal levels of around 5% as the U.S debt approaches $20 trillion, then servicing that debt each year will cost taxpayers $1 trillion.
Does anyone think that the Federal Reserve, as the enabler of all this debt, will be in any rush to raise interest rates?
Following Europe's example, the U.S. debt-to-GDP ratio hit 105.6% in 2013, a perilous level that has long-term repercussions for the world's largest economy, according to Standard & Poor's. By 2016, right around the time that Hillary Clinton will be running in earnest to be president, the ratio will likely hit a staggering 111%.
But how much debt is too much debt? And what are the pitfalls facing the United States in the future? Both questions remain hotly contested among economists, despite a wide acceptance of a "tipping point" theory both by politicians and ordinary Americans.