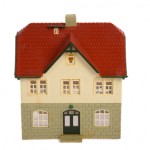 In further signs of a U.S. housing market recovery, home prices are up - meaning a whopping 33% fewer homeowners are underwater.
When the U.S. housing market bottomed out in 2008, nearly one in six homeowners owed more on mortgages than their homes were worth. That translated to 12 million underwater homeowners.
But the outlook has improved considerably.
That's because home prices, which peaked in 2007, rose 7.4% in November from a year ago, according to real estate firm CoreLogic. That's the largest year-over-year increase since 2006, when the housing industry was nearing its peak.
As home values rose, the number of "underwater" borrowers fell last year by almost 4 million, and that total could drop to 4 million within two years, according to JPMorgan Chase & Co. (NYSE: JPM).
That's good news not only for the housing industry, but for the entire economy.
"For most middle class households, homes are by far their biggest asset," Karen Weaver, head of market strategy and research at investment firm Seer Capital Management LP told Bloomberg News. "So once the housing market starts to recover it helps consumer spending, it helps the whole economy."