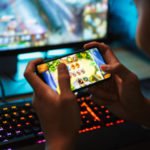 You don't often hear about the video game industry from Wall Street, but it's on the fast track to becoming bigger than both the film and music industry combined.
The global video game industry is worth a whopping $152 billion right now, while the music and movie industries are worth $19.1 billion and $136 billion, respectively.
Over the next five years, some of the best video game stocks to buy will help push the video game market to even greater heights, too.
Between now and 2021, Statista reports it'll grow 20% to $180.1 billion.
By 2025, Global Data says the video game market could rocket up to $300 billion.