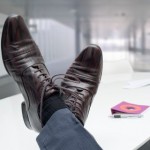 Today's Washington will never bring charges against Wall Street criminals - criminal charges, that is.
Five years have passed since the peak of the subprime financial crisis, in which the nation's largest banks formulated sloppy loans that taxpayers ended up paying for. Wall Street's greed cost the United States nearly 9 million
jobs
(6% of the workforce), a 30% fall in
housing
prices, and a 50% dip in the
stock market
.