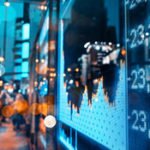 They hide it well, but the financial wizards on Wall Street do not have your best interests at heart. If trading on margin can leverage potential rewards, then they give you three - and even four - times leverage to super magnify risks.
And if diversifying a portfolio with a mutual fund is good, they give you mutual funds that invest in other mutual funds.
The common thread? No matter what the market does, they collect their fees. They'll recommend all types of stocks and ETFs, regardless of quality, just to collect that commission.