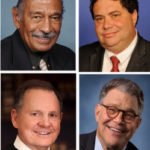 Members of Congress accused of sexual harassment have used your tax dollars to pay for settlements to the victims.
And to make matters worse, confidentiality requirements ensured that the Congressmen responsible remained anonymous - and safe from any negative consequences.
But the recent revelations of sexual harassment against high-profile lawmakers like Rep, John Conyers and Sen. Al Franken have uncovered this unseemly practice.