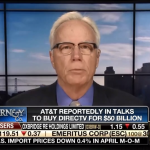 Money Morning's Defense and Tech Specialist Michael Robinson knows we've had a quiet recovery in the Dow Jones Industrial Average since February and that has him pointing to his calendar. Because he's confident the Dow is going to hit 17,000 by this date in 2014.
Robinson joined FOX Business' "Varney & Co." today (Wednesday) and told viewers why the markets are going up and when he expects the Dow to surpass 17,000. He also discussed why the recent news of an AT&T Inc. (NYSE: T) deal with DirecTV (Nasdaq: DTV) is so important to AT&T.
See for yourself, here...