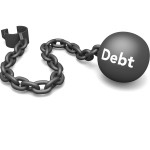 Anyone wondering how to get out of student loan debt - or wondering if a slew of student debtors could try to do so - needs to read this.
Yesterday, I wrote about the case of Michael Hedlund, the failed law student who was able to discharge $58,000 of his student loans in a 10-year bankruptcy action.
Before Hedlund's case, it was widely accepted that there were only two ways to get out of student debt: pay it off, or die.
But the Ninth Circuit took a long, hard look at Hedlund's circumstances.  It found that he'd acted in good faith to repay his loans, and that paying the full amount would be an undue hardship for Hedlund and his family. 
The court viewed Hedlund as an "ideal debtor," and so it excused a large portion of his debt.
If you are a student debtor, you too could have a decent shot at discharging your student debt in bankruptcy, but only if you are an ideal student debtor.
But what makes an ideal debtor?