what is the vix
Article Index

What is the VIX? Here's a guide to what the CBOE's Volatility Index actually measures.
And here's exactly how traders can use it to their advantage...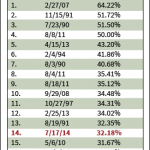 Yesterday (Thursday), the Volatility Index (VIX), often referred to as the "investor fear gauge," jumped 32.2%, its highest advance on the year and the index's biggest surge since April 2013.
The VIX spike was triggered by the downing of a Malaysian passenger plane on the Ukrainian-Russian border and an Israeli invasion of the Gaza Strip after ceasefire talks broke down.
Here's the most important thing to understand when a big spike in the VIX takes place…