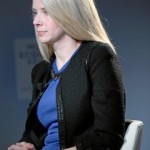 Now that the long-awaited Alibaba IPO (NYSE: BABA) is here and the stock starts trading tomorrow (Friday) -- Yahoo! Inc. (Nasdaq: YHOO) CEO Marissa Mayer has some big decisions on her plate.
Yahoo figures to get a massive windfall from its 22.5% stake in the Chinese e-commerce giant, thanks to a prescient $1 billion investment the Sunnyvale, Calif.-based Internet pioneer made in 2005.
But now Yahoo needs to put that money to work, primarily through key acquisitions.