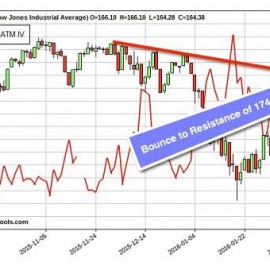 There's no nice way to say it: The past three months have been ugly for the markets - and the "buy and hold" investing crowd.
Some of my favorite market-tracking exchange-traded funds (ETFs) tell the grim tale...
The 1/100 Dow Jones Industrial Average ETF (CBOE: DJX) traded at $177.66 on Dec. 1, 2015. As of Feb. 25, 2016, it's declined more than 6.2% to $166.28...
The SPDR S&P 500 ETF Trust (NYSE Arca: SPY) could be had for $209.44 a share on Dec. 1, but as of Feb. 25, it's declined more than 7.7% to $193.07...
And the PowerShares QQQ Trust Series 1 ETF (Nasdaq: QQQ), which tracks the Nasdaq 100, has declined nearly 11%. It's down to $102.26 from $114.48 in the beginning of December.
What's worse, these declines actually reflect the oversold bounce we experienced in mid-February. We haven't seen another.
But... for all that, I'm really excited about the month ahead of us. There are some big profits coming our way.
That's right. I'm bullish in March, because I've seen the same pattern I'm about to show you.