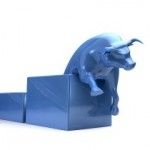 You already know central banks have been boosting markets through loose monetary policies the past few years.
Now it looks like they'll move markets in another way - by pouring record amounts of money into buying equities.
The stunning revelation comes in a survey by Royal Bank of Scotland Group Plc (NYSE ADR: RBS) and CentralBanking.com. The survey reveals that 23% of the 60 central bank respondents are buying stocks or plan to do so in the next five years.
In fact, this marked the first time in the survey's nine-year history central bankers were asked whether they bought or planned to buy stocks.
While it's not the first time central banks have ever bought equities, it is the most aggressive purchasing they've done.
"This time around, they're not just throwing in the kitchen sink; they're throwing in the garage, a couch, the guitar, the dog, anything they can get their hands on," said Money Morning Chief Investment Strategist Keith Fitz-Gerald.