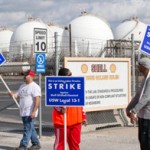 The price of oil is still on the rise today (Tuesday). As of 12:35 p.m. GMT (7:35 a.m. EST) today, Brent traded at $56.38 a barrel, a nearly 3% gain from its previous value.
That puts Brent oil up 14% since last Friday (Jan. 30). And on that day, Brent surged 8% - its biggest one-day gain since 2009.
WTI crude traded this morning at $50.88, up roughly 2.6% since Monday night.